This is an archived article and the information in the article may be outdated. Please look at the time stamp on the story to see when it was last updated.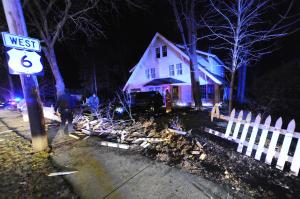 BAY VILLAGE, Ohio — A suspected thief who fled from police early Thursday morning wound up in the hospital after losing control of his car and crashing.
According to Westlake police, the incident started just after midnight when a police officer observed a driver pulling in and out of parking lots along Crocker Road.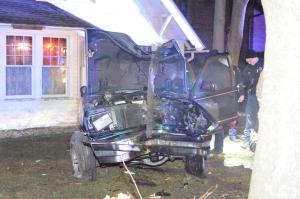 After the driver allegedly committed a number of moving violations, an officer tried to pull him over. But instead of stopping, the suspect took off on Clemens Road, then down Bradley Road into Bay Village, where he became airborne when he crossed the railroad tracks.
At the intersection with Lake Road, the driver failed to negotiate a left turn, crashed through a fence, hit a tree, landing inches away from someone's house.
The suspect was taken to St. John Medical Center, where he remains under observation.
Inside his car, officers found a stolen license plate, as well some other items reported stolen from a nearby hotel.
The 38-year-old suspect has not yet been arrested. His case has been transferred to the Cuyahoga County Prosecutor's Office, where he could face traffic violations, receiving stolen property and felony fleeing charges.
Stick with Fox 8 News and FOX8.com for updates as they become available.