This is an archived article and the information in the article may be outdated. Please look at the time stamp on the story to see when it was last updated.
WASHINGTON DC – On Sunday, October 1, The White House will become the pink White House in honor of National Breast Cancer Awareness Month.
First Lady Melania Trump released a statement about the pink illumination:
"During October, we raise awareness and encourage people to take steps to reduce their risk of breast cancer. I encourage all women to talk to their healthcare providers about mammograms and other methods of early detection and what can be done to reduce that risk."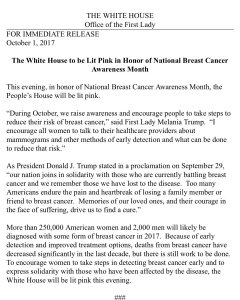 The pink color is meant to remind and encourage everyone to "take steps in detecting breast cancer early and to express solidarity with those who have been affected by the disease."
According to the release, in 2017, more than 250,000 American women and 2,000 men run the risk of being diagnosed with some form of this cancer.