This is an archived article and the information in the article may be outdated. Please look at the time stamp on the story to see when it was last updated.
CLEVELAND-The Indians have stepped up and are able to squeeze two more fans into the ball park for Friday's game.
A young boy who was wounded in a shootout and his uncle, who helped save his life.
Hats, tickets, a signed Corey Kluber baseball all gifts from the Cleveland Indians to Yusef Suleiman and his nephew, Saed.
"What the Cleveland Indians did is a class act and we are so grateful," Suleiman said. "We want to thank Fox 8 too for airing our story. This means so much to him. He will always remember this game."
And Saed said he loves the baseball the best.  "Thank you, Indians," Saed said.
Curtis Danburg, of the Indians, said the team wanted to help out after they heard what happened.
"I hear from Fox 8 this young boy a 5-year-old that gets shot in the foot at a barbershop, just random, weird incident , and the fact that 5-year-old is a passionate Indians fan it just all came together," Danburg said.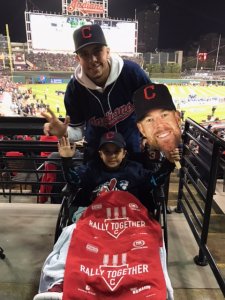 Danburg said they were able to help out the young fan because of the kindness of a Toronto fan. "The timing was great as there is another layer to this," he said. "A Jays fan was so moved about the Larry Doby Youth Fund story that she reached out to cle.com to donate her tickets for a kid that deserves to go to the game. They were SRO tickets so we are leveraging those and doing a seat upgrade behind home plate . Pretty cool how things work out. Tito and clubhouse created the youth fund to curb youth violence. Amazing."
Suleiman took his 5-year-old nephew to get a haircut at his best friend's barbershop when three men entered the store with guns.
Security video shows two of the employees firing back at the suspects in self defense.
"We defended and served, "said Rashad Ahmad , one of the barbers. Ahmad said he is still shaken from the attempted robbery and is looking to move his business.
" I want my customers to be safe," Ahmad said.  One of the suspect's, another man, and Saed were injured.
Police are continuing to investigate and are searching for additional suspects.