This is an archived article and the information in the article may be outdated. Please look at the time stamp on the story to see when it was last updated.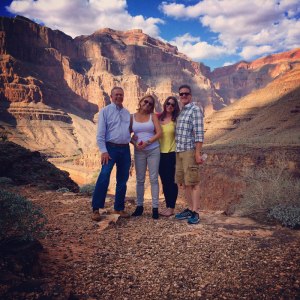 PORTLAND, Ore. — Brittany Maynard, the woman who has chosen Nov. 1 as the day she will die, has checked off another life dream from her bucket list.
Maynard was diagnosed with a severe brain tumor earlier this year. After treatment, doctors told Maynard her life expectancy may only be 14 months. They also told her death would likely be slow and painful.
She decided that on Nov. 1, surrounded by her husband, mother and best friend, she will end her life using medication prescribed by her doctor.
*Brittany gives an in-depth explanation on her agonizing decision here*
Maynard wrote a note Oct. 24 on The Brittany Maynard Fund website thanking "the kindness of Americans around the country who came forward to make my bucket list dream come true."
She visited the Grand Canyon with her family.
She said in her post: "The Canyon was breathtakingly beautiful, and I was able to enjoy my time with the two things I love most: my family and nature."
She also said, however, that it is impossible to forget her cancer.
"Severe headaches and neck pain are never far away, and unfortunately the next morning I had my worst seizure thus far. My speech was paralyzed for quite a while after I regained consciousness, and the feeling of fatigue continued for the rest of the day.
The seizure was a harsh reminder that my symptoms continue to worsen as the tumor runs its course. However, I find meaning and take pride that the Compassion & Choices movement is accelerating rapidly, thanks to supporters like you. I ask that you please continue to support C&C's state-by-state efforts to make death-with-dignity laws available to all Americans. My dream is that every terminally ill American has access to the choice to die on their own terms with dignity. Please take an active role to make this a reality. The person you're helping may be someone you love, or even in the future, yourself."
Click here for more on Maynard's story.