This is an archived article and the information in the article may be outdated. Please look at the time stamp on the story to see when it was last updated.
WASHINGTON, D.C.– Just one teaspoon of pure powdered caffeine is the equivalent of drinking 28 cups of coffee, and ingesting too much of it has proven to be fatal in just a matter of minutes.
Dennis and Katie Stiner of LaGrange know the outcome all too well.
"It's not easy coming here sharing our stories and talking about our son," said Dennis Stiner.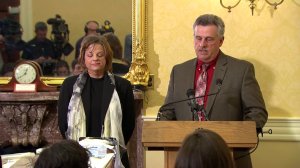 For the second time in as many years, the Stiners are in Washington, D.C. meeting with FDA officials.
Before that meeting, they spoke during a news conference about their beloved son.
Just three days away from his high school graduation, Logan Stiner died from a caffeine overdose in 2014.
The high school wrestling star was set to graduate fourth in his class and was to study chemical engineering in college.
You can easily purchase pure caffeine in the form of powder or liquid online, and advocates say therein lies the major problem.
Laura MacCleery is with the Centers for Science in the Public Interest and has joined victims' families and senators to petition the FDA.
MacCleery said, "It's astonishing. A substance that is fatal in adults in the amount of two tablespoons, is sold cheaply over the Internet as loose powder in large bags without clear warnings. It is time for the FDA to protect consumers from this clear hazard."
Ohio Senator Sherrod Brown, also in D.C., said, "The accurate labels are not good enough because to me, it's like tobacco in a sense that putting all the warning labels, you shouldn't be allowed to market this stuff to children, period."
While the FDA issued warning letters to five companies last year to stop selling the product in bulk, a quick Google search reveals other manufacturers, mostly overseas, still make it easily accessible.
Lawmakers are expressing their disappointment in the FDA for not moving quickly on this issue; fearing only more deaths will occur, until there is a complete ban of pure caffeine products.
Stiner added, "I sure hope the FDA will really do the right thing this time around and take a serious hard look at why they need to ban this product."
While the FDA hasn't spoken publicly about what additional legal steps may be taken, they did issue a statement which reads in part:
"The FDA does not discuss specific matters that are still pending before it. However, we can assure you that the FDA takes concerns raised about safety of these types of products very seriously."