This is an archived article and the information in the article may be outdated. Please look at the time stamp on the story to see when it was last updated.
CLEVELAND, Ohio-- The 13-year-old girl who was shot Wednesday following the Cavs parade in downtown Cleveland is speaking out first to FOX 8 I-Team reporter Peggy Gallek.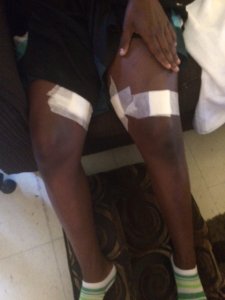 The girl said she heard a boom and began running. She said she didn't realize she was shot until she looked down and saw the blood on her legs.
The shooting happened at East 4th and Euclid as thousands of people were leaving the city after the massive Cavs' celebration.  The shooting is still under investigation.
In the meantime, a GoFundMe account has been created to help the family with medical bills.
Peggy will have much much more from both the teenager and her mother on FOX 8 News and fox8.com.