This is an archived article and the information in the article may be outdated. Please look at the time stamp on the story to see when it was last updated.
CLEVELAND– Police said a 17-year-old male was arrested, Tuesday, in connection with the beating of a man outside of Cocktails, a gay bar in Cleveland.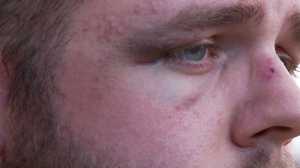 Jared Fox, 26, was attacked on August 31, while walking up to the bar on West 93rd Street and Detroit Ave.
A couple days after the attack, Fox told FOX 8, "I fully believe it was because I am gay."
The attack was caught on the bar's surveillance cameras.
Authorities said between the video and great police work, they took the Cleveland teen into custody without incident.
He faces robbery felonious assault charges, for now.
Police and prosecutors will discuss the technicalities of a possible hate crime charge.
The teen has not yet been charged. He will be taken to the Cuyahoga Juvenile Detention Center.
Police are still asking for the public's help in identifying other suspects. Contact the First District Detective Bureau at (216) 623-5118 with any information.
(Emily Valdez contributed to this report.)