This is an archived article and the information in the article may be outdated. Please look at the time stamp on the story to see when it was last updated.
Alex Menassa, Senior Financial Planner at Szarka Financial, discusses ways to help aging parents handle their finances. A more common situation these days is when mom and dad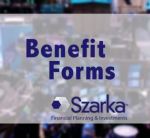 start to experience mental or physical decline and their children get called in to help handle their finances. It's a lot to handle regarding all of the decisions the children need to make. To help make these decisions less difficult – there are certain steps to take and forms to file to make it easier for children to handle their aging parents finances.
Get more info from Szarka Financial here:  http://www.szarkafinancial.com/