This is an archived article and the information in the article may be outdated. Please look at the time stamp on the story to see when it was last updated.
VALLEY VIEW, Ohio — The Cuyahoga County Animal Shelter is looking for furever homes for some awesome dogs.
Lovie is a sweet 5-year-old Coonhound female. This is a beauty that will steal your heart for sure with her loving personality and those super soft ears!  She is a social and playful gal that waits to meet you in kennel #8.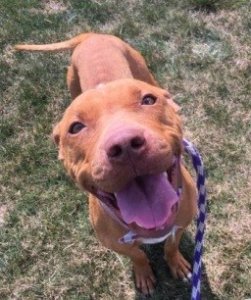 Kailen is a sassy little 3 1/2-year-old Terrier mix female. This little gal sure knows how to pull your heart strings with her sunny and affectionate personality.  She is also a fun member of the unleashed play group.  Just think of all the fun and love she would bring to your home. She came in with some wounds on her back but has healed nicely.  In fact, you would find it hard to see where she was missing her fur. Kailen is in kennel #3.
As the holidays approach, the shelter is planning its 2018 Pawject Runway Calendar release.
The event will be 6 to 9 p.m. Nov. 17 at Quaker Steak & Lube in Valley View. The new calendars will be rolled out, and the cover winner from PawJect Runway will be announced.
The night includes an all-you-can-eat wing buffet, drink ticket and 50/50. There will be raffle baskets, grab bags and, of course, calendars.
The proceeds benefit the Best Friends Medical Fund and the Best Friends of the Cuyahoga County Animal Shelter.
For tickets, click here. 
The shelter is located on Sweet Valley Drive in Valley View.
It's open Tuesdays, Wednesdays and Saturdays from 10:30 a.m. to 4:30 p.m., Thursdays and Fridays from 10:30 a.m. to 6 p.m., and Sundays from noon to 4:30 p.m.
More information on the dogs up for adoption here.
For more on the shelter, click here.