This is an archived article and the information in the article may be outdated. Please look at the time stamp on the story to see when it was last updated.
FAIRVIEW PARK, Ohio– Four people are in custody after two credit unions were robbed on Tuesday.
The robberies happened at North Coast Credit Union on Lorain Road in Fairview Park and Best Rewards Credit Union on Smith Road in Brook Park. The Cleveland Division of the FBI said in both cases, two men wearing hooded sweatshirts entered the buildings and threatened employees with guns.
The workers complied with their demands and the robbers got away.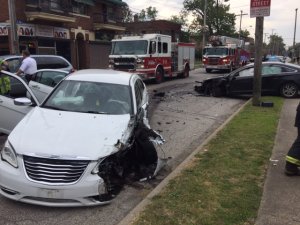 While investigating, authorities spotted the getaway vehicle. Officers, with the help of the Cleveland Division of Police helicopter, tracked the suspects. The FBI said the Chrysler hit two other cars at East 156th Street and Damon Avenue in Cleveland.
Two suspects were taken to an area hospital for treatment while the other two were questioned.
Cleveland Heights police say the white Chrysler 200 used in the robberies was stolen Monday while the vehicle was running in someone's driveway.