This is an archived article and the information in the article may be outdated. Please look at the time stamp on the story to see when it was last updated.
SANDUSKY, OH -  The Ohio State Highway Patrol has released more information on the suspected OVI driver who crashed into their Sandusky post building: the driver of the car had a blood-alcohol level of .273.
That level is more than three times the legal amount of .08 here in Ohio.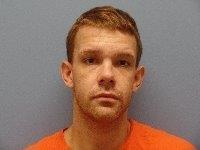 Investigators said that 24-year-old Dakota Clouse, of Castalia,  was drunk on April 12 when he was speeding eastbound on U.S. 6 before travelling off the side of the road, over-correcting to the left side of the highway, traveling across the lawn of the Sandusky Patrol post, hitting a large concrete sign, and crashing into the front of the building.
The crash was captured on surveillance video.
Watch it in the video box, above.
According to the Erie County Sheriff's Office, Clouse had an outstanding felony warrant and did not have a valid driver's license due to an OVI conviction in September of 2015.
Clouse was transported to Firelands Hospital with serious injuries. State troopers said he was not wearing his seatbelt and was ejected from his vehicle.
Clouse was charged with OVI, failure to control, driving without a valid license, and failure to wear a safety belt.