This is an archived article and the information in the article may be outdated. Please look at the time stamp on the story to see when it was last updated.
BOSTON TOWNSHIP, Ohio — Officials at the Cuyahoga Valley National Park announced, Tuesday afternoon, that human bones were discovered in the picnic area of the park, just off the trail, in Boston Township.
Chief Park Ranger Chris Ryan said at a press conference, Tuesday afternoon, that the bones were found scattered and included part of a skull and a jawbone.
Pieces of clothing were also discovered; but Ryan did not know if the clothing belonged to a man or a woman.
Ryan also said that it was too early to determine if this was a homicide; it's considered one until proven otherwise.
He said there were no signs of a struggle and it's not known if the death occurred at the park.
Two park visitors made the discovery around 5 p.m. on Monday.
Authorities, along with the FBI Evidence Response Team, were brought in to conduct a search, Tuesday morning.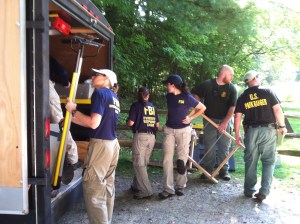 The Summit County Medical Examiner's Office, along with the Cuyahoga Valley National Park Service, is investigating the human remains.
Results will not be available for several weeks.
The picnic area where the bones were found will be closed until further notice.
Oak Hill Trail System is now also closed.
(FOX 8's Lorrie Taylor contributed to this report.)