This is an archived article and the information in the article may be outdated. Please look at the time stamp on the story to see when it was last updated.
WARRENSVILLE HEIGHTS, Ohio- The man wanted in the deadly shooting at a Warrensville Heights barbershop was arrested early Friday morning.
Three people were killed at Chalk Linez barbershop on Harvard Avenue on Feb. 5. Three others were injured.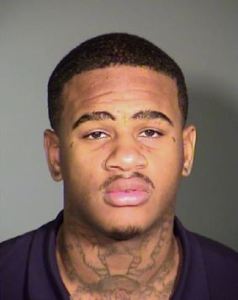 Cleveland police arrested Douglas Shine Jr., who was also wanted for a shooting in Cleveland, at about 2:30 a.m. in the area of East 71st Street and Harvard Avenue. The Cleveland SWAT team, gang unit and the FBI Violent Crimes Task Force surrounded the house and called for Shine to exit. Shine, age 20, was taken into custody without incident, which police said is unusual for a triple-homicide suspect.
"Everyone is relieved that this individual is off the street," Warrensville Heights Mayor Brad Sellers said. He described Shine as violent and unpredictable.
Police Chief Wesley Haynes said the suspect has a lengthy criminal record, and they are investigating possible gang affiliation and motives.
Walter Lee Barfield, 23, of Cleveland; William Gonzalez, 32, of Garfield Heights; and Brandon White, 31, of Warrensville Heights were killed.
Police are still seeking information in the case at 216-522-1400.
"We're asking people in the community to step forward and be part of the solution," Sellers said. Haynes and Sellers both thanked residents for their tips that lead to Shine's capture.
Read more on the Chalk Linez shooting here.
*Watch a report from Wednesday's news conference in the video below*