This is an archived article and the information in the article may be outdated. Please look at the time stamp on the story to see when it was last updated.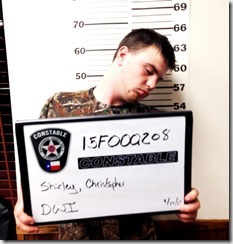 MONTGOMERY COUNTY, Texas– Authorities in Montgomery County, Texas said a man was so impaired, he dozed off while getting his mug shot taken.
Christopher Shirley, 20, was found asleep in a truck in a Walmart parking lot. The truck had backed into another vehicle.  Authorities said when they arrived, Shirley was out of the truck and said he was "high" and also admitted he was already impaired when he drove to Walmart.
Deputies said he failed a field sobriety test. During the booking process, authorities said Shirley was so impaired, he fell asleep while standing as the deputy took his photo.
He's charged with driving while intoxicated.