This is an archived article and the information in the article may be outdated. Please look at the time stamp on the story to see when it was last updated.
CLEVELAND HEIGHTS, Ohio — Cleveland Heights Police have a suspect in custody in connection with the fatal shooting of a teen at his family's Mr. Hero restaurant Friday night.
According to a post on the Cleveland Heights Police Facebook page, officers spotted a man walking into the Dollar General at Lee Road and East Overlook Road around 9 p.m. Sunday who matched the description of the suspect wanted in connection with the deadly shooting on Friday.
When the man was approached by officers as he exited the store, he ran down East Overlook Road. Officers were able to apprehend him and he was taken into custody. The suspect's name was not immediately available.
Officers were called to the Mr. Hero on South Taylor Road around 8 p.m. Friday on reports of a robbery and shots fired inside the store. They arrived to find Sunny Ravi Patel, 15, with a gunshot wound to his head. He was taken to University Hospitals, where he later died of his injuries.
Police said the suspect entered the restaurant and shot Patel in the head before taking money from the register and running away.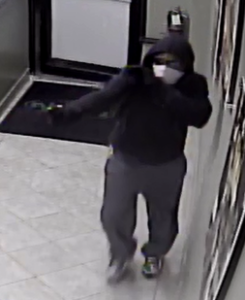 Surveillance pictures showed a man in a hoodie with sunglasses and a bandana covering his face.
Family friends told Fox 8 that the victim was the nephew of the restaurant owner.