This is an archived article and the information in the article may be outdated. Please look at the time stamp on the story to see when it was last updated.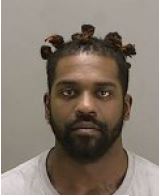 AKRON, Ohio– A 24-year-old is accused of leading police on a chase from Coventry Township to Broadview Heights Thursday afternoon.
Ohio State Highway Patrol troopers tried to pull over Michael Hodge for traffic violations on Interstate 77 near Interstate 277.
The patrol said he refused to stop and continued north on I-77, throwing ammunition from his car. At times, he went the wrong way in the southbound lanes and hit two highway patrol cars.
Troopers hit Hodge's car to try to stop him and he crashed near Brecksville Road. He ran into a wooded area, where he was arrested.
According to the Ohio State Highway Patrol, he had crack cocaine, heroin, narcotic pills and digital scales in his car. There were no weapons.
Hodge, of Maple Heights, was charged with fleeing and eluding, felonious assault on a police officer, obstructing official business, possession of cocaine, possession of heroin, possession of a schedule II substance, and drug trafficking.