This is an archived article and the information in the article may be outdated. Please look at the time stamp on the story to see when it was last updated.
SANDUSKY, Ohio– Surveillance video has been released following a man crashing into the Ohio Highway Patrol Post around 9 p.m. Tuesday night.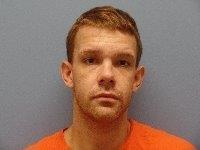 Dakota Clouse, 24, is accused of being drunk when he sped down U.S. 6 and crashed into a large concrete sign before driving through the front of the building.
The Erie County Sheriff's Office said Clouse was transported to a local hospital with serious injuries. He was ejected from the car and wasn't wearing a seat belt.
(Photo courtesy: Ohio State Highway Patrol)

(Photo courtesy: Ohio State Highway Patrol)

(Photo courtesy: Ohio State Highway Patrol)

(Photo courtesy: Ohio State Highway Patrol)

(Photo courtesy: Ohio State Highway Patrol)

(Photo courtesy: Ohio State Highway Patrol)

(Photo courtesy: Ohio State Highway Patrol)

(Photo courtesy: Ohio State Highway Patrol)

(Photo courtesy: Ohio State Highway Patrol)

(Photo courtesy: Ohio State Highway Patrol)

(Photo Credit: Brian Rather)

(Photo Credit: Brian Rather)

(Photo Credit: Brian Rather)