This is an archived article and the information in the article may be outdated. Please look at the time stamp on the story to see when it was last updated.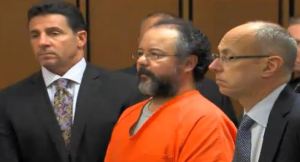 CLEVELAND — The man who abducted three young women and denied them their freedom for a decade was stripped of his own on Thursday.
Judge Michael Russo sentenced Ariel Castro to life in prison without the possibility of parole plus 1,000 years.
A $100,000 fine was imposed and Castro will have to pay court costs.  He will forfeit a firearm, his home and roughly $22,000.
Russo said the consecutive sentence was necessary because even though "a person can only die in prison once," the court found Castro's multiple offenses were great and unusual.
Last week Castro pleaded guilty to 937 counts, including aggravated murder, rape and kidnapping.
Russo also said Castro posed a grave danger to the community because Castro said he "couldn't help" what he did.
Those were Castro's own words as he spoke at the hearing, describing a "sexual addiction."
Castro also said he never planned to abduct the women, but did so on impulse.
Michelle Knight took the opportunity to be present in court and to deliver her own victim impact statement.
"You took 11 years of my life away, but now I have it back. I spent 11 years in hell. Now your hell is just beginning," Knight told Castro.
Knight, who was 21 at the time, was the first to be lured into Castro's car.  He encountered her in 2002.  She was lost while looking for a social worker regarding an issue with her son.  Knight knew Castro's daughter Emily and accepted his offer to give her a ride.
When he promised a puppy for her son, Knight entered Castro's home.  He never let her leave.
"Days never got shorter.  Days turned into nights, nights turned into days.  Years turned into eternity," Knight said.  "(Castro) told me that my family didn't care, he tormented me constantly, even on holidays.  Christmas was the most traumatic day, cause I never got to spend it with my son.  Nobody should ever have to go through what I went through."
Knight said the only good thing that came out of the ordeal was her friendship with Gina DeJesus, who was abducted in 2004 at the age of 14.  DeJesus knew one of Castro's daughters and was also promised a ride.
Sylvia Colon, DeJesus' cousin, spoke on her behalf at the sentencing.
"Today is the last day we want to talk about this. We will continue to live and love. We stand before you and promise you that our beloved family member (Gina) cries, laughs, swims, dances, and more importantly, she loves and she is loved," Colon said.
Amanda Berry was almost 17 when she was taken in 2003.  Castro used the same method in that abduction, by offering her a ride.
Berry's sister, Beth Serrano, gave a statement on her behalf.  She said it is Berry's request that people stop talking about the case for the sake of her 6-year-old daughter, who was fathered by Castro in captivity.
Berry escaped on May 6 when she got the attention of neighbors who helped her break down the door.
Pictures presented by the prosecution at the sentencing gave a small glimpse of the conditions in which the women were forced to live.
The house was "fortified" in certain ways, FBI Special Agent Andre Burke said.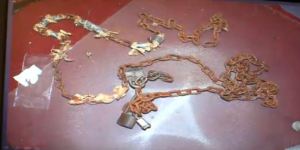 Photos taken inside the home showed heavy doors were used to board windows and a rudimentary alarm system made of alarm clocks was rigged to the front and back doors.
Padlocks and chains were also left about the house, used to restrain the women during their captivity.
But possibly the most powerful restraint was the kind Castro imposed on the women's minds.
Cleveland Division of Police Patrolwoman Barb Johnson was one of the first to enter Castro's Seymour Avenue home on May 6.
The responding officers talked to Berry first, who told police there were other victims inside the home.
Johnson said although Knight "launched herself" into another officer's arms, DeJesus was fearful and reluctant to come out of her room.
Cuyahoga County Sheriff's Deputy Dave Jacobs said Castro would play a "trust game" with the victims and ask them to hold a revolver to his head.
In addition to the mind games, the victims were deprived of food and medical treatment.  They had to use a plastic toilet that was rarely emptied.
All three were also subjected to physical and sexual abuse.
Dr. Frank Ochberg said although he wants to be optimistic for the women's sake, the effects of the abuse are long-lasting.
"The damage that was done does not go away. They have life sentences," he said of the victims.
But the victims also have their freedom and many opportunities ahead, which Russo acknowledged before court was adjourned.
"Miss Knight, Miss DeJesus and Miss Berry, as well as her young daughter, we celebrate your futures.  We acknowledge the faithfulness of your families, your friends, and all others in this community, who so fervently believed that you were alive," Russo said.  "On behalf of the judges and the staff of this court, we wish each of you success and a sense of peace."
***See below for blog updates from the sentencing.***