This is an archived article and the information in the article may be outdated. Please look at the time stamp on the story to see when it was last updated.
VALLEY VIEW, Ohio — The Cuyahoga County Animal Shelter is looking for furever homes for some very special dogs.
Mya is an eight year old Retriever mix senior female.  This darling knows about home living and is a mellow and good tempered girl that needs a forever home to lay her sweet head.  She is in playgroups and enjoys watching all her friends have fun.  She dreams of that loving forever home and hopes you come and get her right away!  Mya is in kennel #16.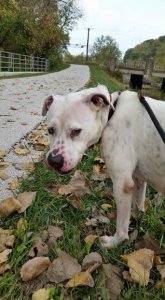 Nalani is a 6 year old Boxer mix female.  This girl is having a hard time adjusting to a shelter setting and would certainly benefit from being in a loving home.  She truly is very sweet and loving.  Nalani is waiting hopefully in kennel #12.
The shelter is located on Sweet Valley Drive in Valley View.
It's open Tuesdays, Wednesdays and Saturdays from 10:30 a.m. to 4:30 p.m., Thursdays and Fridays from 10:30 a.m. to 6 p.m., and Sundays from noon to 4:30 p.m.
More information on the dogs up for adoption here.
For more on the shelter, click here.