This is an archived article and the information in the article may be outdated. Please look at the time stamp on the story to see when it was last updated.
WELLINGTON, Ohio-- Devin Bryner had an unforgettable weekend and his smile showed it.
The 18-year-old Wellington High School student who has cerebral palsy and is in a wheelchair was voted homecoming king by the school and crowned Friday night amid cheers from the crowd.
"It's hard to describe it. You could see it in his eyes, in his attitude, how excited he was," said Derek Bryner, Devin's father.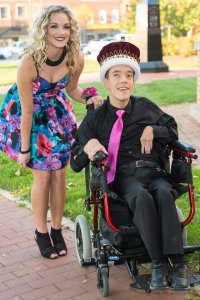 It was the start of a whirlwind weekend that culminated with the homecoming dance Saturday. Senior Ava Rowland had asked Devin to be her date.
"I thought it would be fun, and I just thought I'd do something nice for somebody," Rowland said, adding that he's a good dancer. "It's something that I'll never forget."
Devin told Fox 8 News he had fun at homecoming. His father credited Wellington High School students and staff for their continual support.
"They look after him; they joke with him. He really enjoys school because of that," he said.