This is an archived article and the information in the article may be outdated. Please look at the time stamp on the story to see when it was last updated.
CLEVELAND, Ohio -- More than 2,000 people are without power as of 12:30 p.m. Wednesday after whipping winds caused outages across northeast Ohio.
At one point, the outage number was over 12,000 in Cuyahoga County alone.
According to FirstEnergy, customers in Cuyahoga County should have their power back by 11 p.m. Wednesday evening.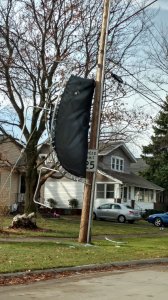 Photos sent in to FOX 8 News show just how wicked the winds were: someone's trampoline was even tossed all the way up onto a telephone pole.
**For the latest outage numbers, click here**