This is an archived article and the information in the article may be outdated. Please look at the time stamp on the story to see when it was last updated.
STREETSBORO, Ohio– A Ravenna woman is facing charges for operating a vehicle under the influence after officers pulled her over twice in the same day.
Streetsboro police received a call about an erratic driver at about 9:25 a.m. Tuesday. Officers found the car on state Route 43 near state Route 14.
"In 21 years, I don't recall anyone ever being arrested twice in the same day for OVI," said Streetsboro Lt. Patricia Wain.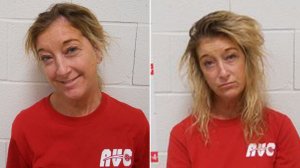 The driver, Dawn Kvasnicka, 48, of Ravenna, was given a field sobriety test. In the dash cam video, she's seen falling onto the back bumper of her car.
"I think we're done," the officer said before putting the woman into the cruiser. "I think we've done everything we can do."
According to police, Kvasnicka showed signs of impairment and was taken to the department.
Her blood-alcohol level was at .371. Ohio's legal limit is .08. Kvasnicka was charged with OVI and released to a friend.
At about 2:47 p.m. on Tuesday, the police department received another report of a car traveling erratically. Kvasnicka was pulled over on state Route 303.
Police said she still showed signs of impairment. This time, her blood-alcohol content was .383.
"Clearly she couldn't be trusted to stay off the road," Wain said.
Kvasnicka was charged with her second OVI of the day and taken to the Portage County Jail.
She pleaded not guilty to the OVI charges, but is also facing fifth-degree felony drug charges for attempting to enter the jail with some sort of illegal substance.
Police call the entire situation is scary and also sad. They said they hope she gets the help she may need.
They're also grateful good Samaritans noticed the dangerous driving and called 911 in both incidents that day before Kvasnicka injured herself or someone else.  The roads she traveled were very busy and also close to the local schools.
"If they hand't called and taken the action they did," Wain said. "We could've been looking at a tragedy."