This is an archived article and the information in the article may be outdated. Please look at the time stamp on the story to see when it was last updated.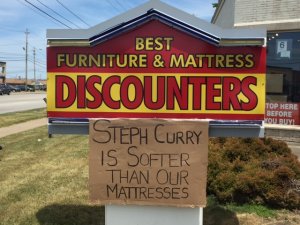 MENTOR, Ohio — A furniture store in Mentor is now showing its sign of support for the Cavaliers as we get closer to Sunday's Game 7 of the NBA Finals.
The store manager at Best Furniture, 7350 Mentor Ave., Mentor, posted a 'Steph Curry is softer than our mattresses' sign this weekend.
They say it's the store's way of being #ALLinCLE.
Last week, a Dairy Queen in Elyria posted a similar message on its sign outside the restaurant ahead of Game 6.
It said: "Steph Curry is softer than our ice cream."
The photo quickly went viral.
Curry has been the focus of Cavs fans after some of his recent antics, including launching his mouth guard into the stands during Game 6. Andrew Forbes, son of Cavs minority owner Nate Forbes, was hit with the mouth guard.
Curry was fined for the incident. 
How are you supporting the Cavaliers? Share your fan photos with us, by clicking here. 
**Read  much more on the Cavs right here!**