This is an archived article and the information in the article may be outdated. Please look at the time stamp on the story to see when it was last updated.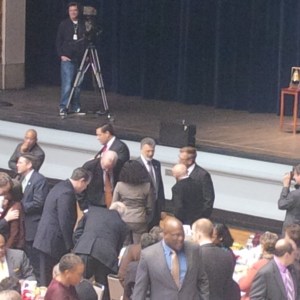 CLEVELAND — Mayor Frank Jackson says there are "loose ends," but he believes the city is on the right track.
Jackson discussed the State of the City Wednesday afternoon.
A crowd of about 1,000 attended the event, hosted by the City Club of Cleveland.
Jackson said he is working on creating an environment that will attract people to want to live and work in the city.
"We want Cleveland to be a city of choice," Jackson said.
He noted the city is working to make the area safer.
He said if he had to grade the police department he would give it a 'B.'   An 'A' for professionalism, but a 'C' for not communicating better with the public.
He noted since 2006, the use of deadly force by police is down.
The mayor also touched on several projects he is working on including the West Shoreway and Healthy Neighborhoods.  Jackson said the West Shoreway will be transformed into a landscaped parkway.
He noted the city has now broadened its review of new development projects to include an assessment of the impact on the health of neighborhood residents.