This is an archived article and the information in the article may be outdated. Please look at the time stamp on the story to see when it was last updated.
AVON, Ohio — Final touches are being put on the 2017 St. Jude Dream Home, and soon you will be able to check it out.
Weekend open house tours begin Saturday, May 20 and continue through Sunday, June 18. The home is located in the beautiful Red Tail Golf Community in Avon, Ohio
Hours are 9 a.m.-5 p.m. on Saturdays and 12 p.m.- 5 p.m. on Sundays.
Everyone who comes to the free open house can register for a chance to win $10,000 in Fish Furniture.
The drawing for the dream home and all of the prizes, which you can see below, happens on FOX 8 News in the Morning on Thursday, June 22.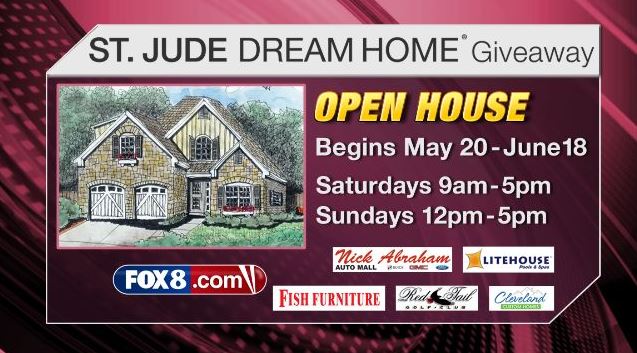 Here is a list of prizes:
The 2017 Cleveland St. Jude Dream Home Giveaway House valued at approximately $450,000 built by Cleveland Custom Homes in the beautiful Red Tail Golf Community in Avon, Ohio
Winner's choice of a 2017 Buick Encore or a 2017 Ford Fusion courtesy of Nick Abraham Auto Mall
Artesian Antigua Elite Hot Tub courtesy of Litehouse Pools and Spas
Whole Home Makeover – complete house, roof, deck, patio, and concrete wash courtesy of Perfect Power Wash
Custom made statue of St. Jude, or similar courtesy of Milano Monuments
$2,500 Panera Bread Prize Pack courtesy of Panera Bread
$1,500 Conrad's gift certificate towards tires or services, courtesy of Conrad's Tire Express & Total Car Care
Brizo Artesso Articulating Kitchen Faucet with SmartTouch Technology in Stainless Steel finish courtesy of Brizo
$1,500 Visa Gift Card courtesy of Smiles by White
**More stories on the St. Jude Dream Home**