This is an archived article and the information in the article may be outdated. Please look at the time stamp on the story to see when it was last updated.
By Toni Garbo, FOX 8 Managing Editor
Let's start by saying thank you. Because of your interest in the FOX 8 St. Jude Children's Research Hospital Dream Home Campaign, we've made history.
We started our FOX 8 phone bank at 6 a.m. Wednesday morning. Tickets were on sale for $100.00. But we only had 8,000 of them.
Shortly after 12 p.m., we had sold out ... in just six hours!
In 22 years, no other St. Jude campaign has sold out on the first day. Now, your contributions will go towards a wonderful cause.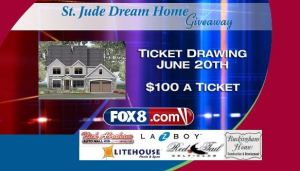 With your purchase of a dream home ticket within the first month of ticket sales, you will also be in a drawing for a new car from Nick Abraham Auto Mall.
Other great prizes include:
- $10,000 to spend at Litehouse Pools and Spas
- $1,000.00 American Express gift card, courtesy of all My Sons Moving and Storage
- Three-day royal Caribbean cruise for two, courtesy of Church on the North Coast
- Talo, Smart Touch, kitchen faucet and accessories package, courtesy of Brizo
- Keurig Brew System along with a one-year supply of Dunkin Donuts Coffee K Cups (24 cartons, a one-year supply of Dunkin Donut Hot chocolate K cups, four ceramic Dunkin mugs, four dunkin travel mugs, $700 in preloaded Dunkin Gift Cards all from Dunkin Donuts.
- $1,500 gift card to Peter & Co. Jewelers
- $1,500 gift card to Shell
- Three $500 vouchers for a set of tires, courtesy of Conrad's Tire Express & Total Car Care
- Set of four mattresses, courtesy of Mattress Matters
The drawing for the car and all the secondary prizes will be done first.  If you win any of the other prizes, you will still be in the drawing for the 2013 St. Jude Dream Home which will be held on June 20.
We have a huge added bonus prize that can be yours by just touring an open house of our Dream Home in May.  Thanks to the generosity of La-Z-Boy, $10,000 in La-Z-Boy furniture can be yours by just touring the home.
La-Z-Boy will be staging the home for its presentation but wanted to make sure our viewers have a chance to win La-Z-Boy furniture, too.  We will have more information on our open house tours and how you can win $10,000 from La-Z-Boy in the coming month.
*Click here for more on the St. Jude Dream Home Giveaway