This is an archived article and the information in the article may be outdated. Please look at the time stamp on the story to see when it was last updated.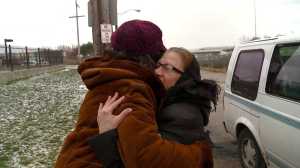 CLEVELAND — This was Fox 8's 8th year sponsoring Operation Giving Tree.
It's a program started by the Cuyahoga County Children and Family Services to help provide the foster children in the county a gift for the holidays.
Dozens of Fox 8 viewers donated hundreds of toys on Wednesday, including some very special guests.
The DeJesus family, including Gina and her mother Nancy, pulled up to the Fox 8 studios Wednesday to donate to the program.
While Gina did not want to go on camera, her family says they have been overwhelmed by the generous response from Northeast Ohio and wanted to give back.
Join us in our front yard right here at FOX 8. We are located at 5800 Dick Goddard Way. You can drop off your items until 7pm Wednesday.
Here is a list of items that are a big hit with the children and teens.
A diverse mix of Barbie dolls
Barbie accessories
Barbie car
tea set
doll – stroller
Leap frog
Spider Man gifts
action figures
bath and body products
mp 3 players
board games
G I Joe
Hot Wheels
cars
trucks
Dora the Explorer
Sponge Bob
Games for Game Boy Advance
Games for WII
Games for Play Stations
hand held electronic games
Basketballs
Footballs
Purses
Watches (boy / girl)
$30.00 gift cards
The gift cards could be the Visa or MasterCard gift cards, it will allow a teenager to use at any store.
We are asking for gift cards to be at least $30.00 because this may be the only gift the teenager will receive. This allows them to buy something they would like.
A special thanks to the members of the University of Akron Steel Drum Band who performed for our Operation Giving Tree event.
They will be performing at Akron's First Night Celebration on December 31. For more information click here.
CLICK HERE to learn more about Operation Giving Tree.
Operation Giving Tree 2013

Operation Giving Tree 2013

Operation Giving Tree 2013

Operation Giving Tree 2013

Operation Giving Tree 2013

Piles of presents!

FOX 8 and Northern Ohio Honda Dealers thank you for your support!

Operation Giving Tree Volunteers

Operation Giving 2013

Operation Giving Tree 2013

Operation Giving Tree 2013 ( Sponsor-Northern Ohio Honda Dealers)

FOX 8's John Telich came in early to support the cause!

Operation Giving Tree is a great way to spread Christmas cheer.

Look how easy it is! Drive up, drop off, feel good!

Operation Giving Tree 2013

Operation Giving Tree 2013

Operation Giving Tree 2013

Operation Giving Tree 2013

Operation Giving Tree (11/27/2013)