This is an archived article and the information in the article may be outdated. Please look at the time stamp on the story to see when it was last updated.
AKRON, Ohio – The son of Akron City Councilwoman Tara Samples, who is Dennis Kucinich's running mate in the Ohio Democratic gubernatorial race, is in custody after posting threats to police on Facebook.
Ohio Going Blue reposted a status from Brian Newell Sunday that said "I bet I kill a cop today…."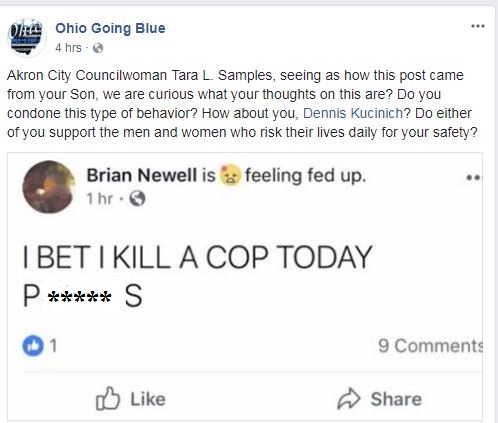 A second posting reads:

An Akron police spokesman confirmed that Newell is Tara Samples' son.
Fox 8 reached out to the Kucinich campaign. Spokesman AndyJuniewicz told us that the campaign is aware of the post and also confirmed that Newell is Samples' 24-year-old son. He said that Newel has a long history of mental illness and the post followed a psychotic episode Saturday. He has since been taken into protective custody and will be admitted to an Akron hospital for treatment. Juniewicz added that the episode was likely caused by Newell not taking his medication or for the medication not working properly.
Here is the official statement from the campaign:
Saturday evening, Brian Newell, the 24-year son of Lt. Governor candidate Tara L. Samples was taken into protective custody after he suffered an emotional episode and posted threatening messages on his Facebook page. Tara is hoping to have him admitted to Summa St. Thomas Hospital, which specializes in behavioral health, opiate treatment, and traumatic stress – because Brian, like all people with mental health and addiction issues, needs treatment, not jail time.

Tara speaks openly and publicly about her experiences with her son who since childhood has suffered from a variety of mental health issues, and later in life a drug and opioid addiction after suffering a traumatic brain injury. His mental health issues have led to arrests and criminal charges. He has multiple mental health diagnoses and has been in treatment and rehabilitation facilities many times over the past many years.

It is that very personal, very painful, but deeply loving experience that has made Tara one of the most vocal, passionate, and knowledgeable advocates in the state for changes in the public health system, addiction treatment and rehabilitation programs, mental health services, and criminal justice practices that too often emphasize punitive incarceration rather than treatment and counseling.

Many of us have a family member, or a friend, a coworker, or an acquaintance who suffers from some kind of mental health problems, drug or alcohol addiction, dependence on medications, or behavioral issues. They need our help, our support, our encouragement, and our love.

Unfortunately, since Saturday night, some individuals have taken to social media to post comments about this situation — comments that range from naïve, uninformed, and insensitive to mean-spirited, vulgar, vicious, hateful, threatening, and racist. Instead of understanding and compassion, some people resort to recriminations and enmity.

The Kucinich-Samples campaign takes a compassionate, pragmatic and non-textbook approach to the opioid and mental health crisis in our State because, like the many tens of thousands of families in Ohio, we have had decades of real experience in dealing with it and the system that promotes incarceration over treatment.

Our prayers are with Tara, her son, and her entire family as they try to cope with this sad situation. The role of government should be to help people who need help – like Brian — and that will be the highest priority of a Kucinich-Samples Administration.