This is an archived article and the information in the article may be outdated. Please look at the time stamp on the story to see when it was last updated.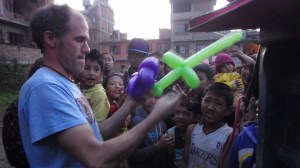 CLEVELAND, Ohio -- It's been about six months since the world seemed to crumble down around the Fowler family as they were visiting their home away from home in Nepal.
More than 8,000 people were killed in Nepal, India and China after a 7.8 magnitude earthquake hit on April 25. Ron Fowler, his wife Stacy and young daughter, Mille,  who live in Northeast Ohio, were staying in suburb Bhaktapur, a suburb of the capital city of Kathmandu, at the time.
Ron, who is a professional clown in Northeast Ohio, became well-known when photos surfaced of him making balloon animals to lift the spirits of the town's children in the days after the disaster.
**For their story, click here** 
The Fowlers returned to Northeast Ohio shortly after the earthquake. But they didn't forget their friends and family back in Nepal.
They've been planning a "Together for Nepal Benefit Concert" fundraiser here in Cleveland for months to help the area they say still needs a lot of work.
"Much needs to still be done there," said Stacy. "Many homes still need to be torn down. Now there is a petrol shortage that is making the situation worse for many. Much rubble still litters the streets, villages and cities."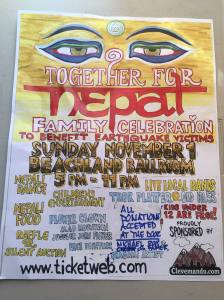 The event will be held from 5 p.m. to 11 p.m. Sunday, Nov. 1, at the Beachland Ballroom. There will be live local bands, Nepali food and dance, face painting, children's entertainment and more. Ron Fowler, the "Flower Clown," will of course be there.
The Fowlers will head back to Nepal in February, and have plans to build a school in one of the most hard-hit areas.
"Our lives have changed immensely and in many good ways since this disaster," said Stacy. "It has made us more charitable, more determined to help even in a small way, more aware of the resilience of the human spirit, determined not to forget those still suffering even though we are safe still in our home."
For more on the fundraiser, click here.  To buy tickets, click here. 
For more on the Fowler family and their experiences in Nepal, click here. 
Ron Fowler tries to lift the spirits of children in Bhaktapur Bhaktapur (Photo Credit: Ron/Stacy Fowler)

(Photo Credit: Ron/Stacy Fowler)

(Photo Credit: Ron/Stacy Fowler)

(Photo Credit: Ron/Stacy Fowler)

(Photo Credit: Ron/Stacy Fowler)

Bhaktapur (Photo Credit: Ron/Stacy Fowler)

Bhaktapur (Photo Credit: Ron/Stacy Fowler)

Bhaktapur (Photo Credit: Ron/Stacy Fowler)

Bhaktapur (Photo Credit: Ron/Stacy Fowler)

Bhaktapur (Photo Credit: Ron/Stacy Fowler)

Bhaktapur (Photo Credit: Ron/Stacy Fowler)

Bhaktapur (Photo Credit: Ron/Stacy Fowler)

Bhaktapur (Photo Credit: Ron/Stacy Fowler)