This is an archived article and the information in the article may be outdated. Please look at the time stamp on the story to see when it was last updated.
Snow and school closings. Sometimes they go hand in hand.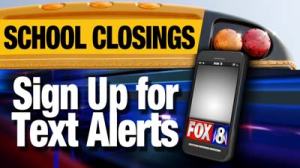 With winter just around the corner, remember FOX 8 is your official school closing station. That means we'll let you know right away when your school shuts down for the day or is delayed because of the weather (or any other reason!)
To be the first to know when your school cancels classes, sign up for text alerts. You'll get a text sent right to your phone, letting you know when your school is shut down.
*Click here if you are on a mobile device.