This is an archived article and the information in the article may be outdated. Please look at the time stamp on the story to see when it was last updated.
AKRON — More than 200 trees and 85,000 strings of lights help kick off the holiday season in downtown Akron.
It was all part of the 33rd annual Holiday Tree Festival, which took place November 22 through 30 at the John S. Knight Center.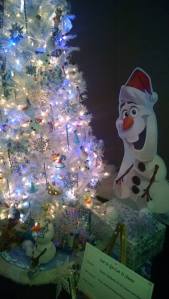 There's plenty for everyone to do at this popular event. People stroll through the building looking at Christmas trees and other holiday decorations, which are for sale. Kids color pictures for sick children, who will be spending the holidays in the hospital. Santa takes photos with families. Choirs and orchestras perform and refreshments are sold.
The event supports Akron Children's Hospital. There's no charge to attend, but the fully decorated trees, which are donated by local families and organizations, are for sale. Proceeds support patient care programs, education and research.
More than $4.7 million dollars has been raised for the hospital since the festival began in 1982.