This is an archived article and the information in the article may be outdated. Please look at the time stamp on the story to see when it was last updated.
MARION, Ohio-- Marion County Sheriff Tim Bailey wants to meet with serial killer Shawn Grate in order to help solve what he says has been the most nightmarish and frustrating case he has handled.
The remains of a young woman were found in 2007 off of Victory Road in Marion. Authorities learned two years ago she was murdered at the hands of the convicted killer..
"We have the remains of the victim, we have the person who admitted to killing her, but we don't know who she is," Bailey said. " We have pictures of women from the southern U.S. who are missing and we want to sit down with Grate and show him those pictures. "
The sheriff said he is waiting to hear from Grate's attorneys to find out if that's possible.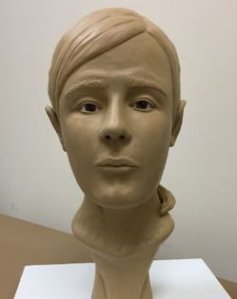 The Ohio Attorney General's Office released a facial reconstruction and background information on the woman Tuesday.
The attorney general's office sent a public bulletin to authorities in Alabama, Florida, Georgia, Louisiana, Mississippi and Texas. Isotope analysis of the victim determined she was likely born in one of these states. Testing also showed she likely spent the last five years of her life in Texas, Florida or the Caribbean.
"We believe she was selling magazines in this area when she was killed," Bailey said. Grate told investigators he may have killed the woman between 2004 and 2005.
The Marion County Jane Doe was between 15 and 30 years old. She had brown hair and was likely between 5 foot 3 and 5 foot 9, and weighed 100 to 150 pounds. Her teeth were well cared for and she had no obvious dental work, the attorney general's office said.
An Ohio Bureau of Criminal Investigation forensic artist created the facial reconstruction using the woman's skull.
Bailey said he isn't sure if the Marion County prosecutor is interested in pursuing charges against Grate because he has already been sentenced to death for killing Stacey Stanley, 42, and Elizabeth Griffith, 29 in Ashland County.
Grate is also likely to face additional charges in Richland County for the murder of Rebekah Leicy and Candice Cunningham.
"Right now, I just want to identify the victim," Bailey said. "I want to solve this."
Continuing coverage of this story here