This is an archived article and the information in the article may be outdated. Please look at the time stamp on the story to see when it was last updated.
WARREN, Ohio -- Authorities say 10 men were arrested as part of an undercover operation aimed at reducing the demand for sex trafficking.
The arrests took place Wednesday after investigators said the suspects responded to online ads placed by law enforcement.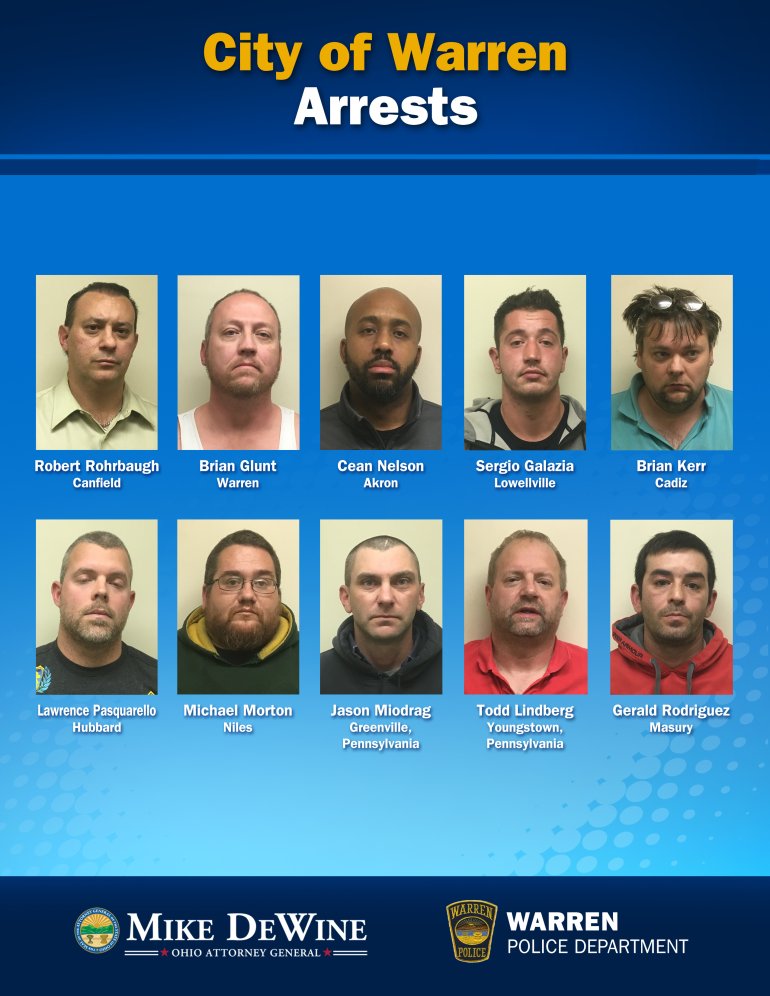 The suspects are accused of exchanging messages with an undercover officer to arrange for a sexual encounter for-hire with a woman.
According to the attorney general's office, each suspect was arrested on a charge of solicitation after arriving for the meetings in Warren.
"We want would-be buyers of sex to remember that they are never sure who they are speaking to online," said Ohio Attorney General Mike DeWine.  Warren Police Chief Eric Merkel added, "This is not a victimless crime. We want the public to know that our department has an online presence and access to these websites used to purchase sex."
The following suspects were arrested:
Robert Rohrbaugh, 44, Canfield
Brian Glunt, 46, Warren
Cean Nelson, 38, Akron
Sergio Galazia, 29, Lowellville
Brian Kerr, 45, Cadiz
Lawrence Pasquarello, 35, Hubbard
Michael Morton, 39, Niles
Jason Miodrag, 36, Greenville, Pennsylvania
Todd Lindberg, 52, Youngstown, Pennsylvania
Gerald Rodriguez, 37, Masury
The Ohio Attorney General's Office notes that additional undercover operations are planned in the future.