This is an archived article and the information in the article may be outdated. Please look at the time stamp on the story to see when it was last updated.
CLEVELAND – Police sources tell the Fox 8 I-Team that one juvenile was arrested on Saturday night in Cleveland after a 911 call came in about several juveniles passing around a gun.
The 911 caller told the dispatcher that the gun may have been a BB gun, but they weren't sure.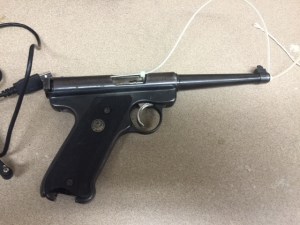 When police arrived, a short foot chase began and the officers caught up to the juveniles.
The gun was in fact a real handgun and one teen was arrested.
"This is exactly the reason why our officers treat all guns the same way," Steve Loomis, Police Union President said. "Our officers or someone else could have been hurt or killed thinking a real gun is fake."
Airsoft and BB guns have been in the spotlight since 12-year-old Tamir Rice was shot and killed by a Cleveland police officer.
Rice had an airsoft pistol officers thought was real outside the Cudell Rec Center, and officers say as they approached Rice, he reached for the gun.