This is an archived article and the information in the article may be outdated. Please look at the time stamp on the story to see when it was last updated.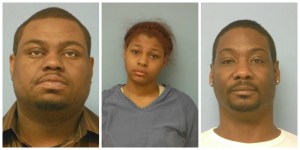 PARMA, Ohio — Parma police say they've arrested several people in connection with the March attack of several employees at a Chuck E. Cheese restaurant.
Jermele L. Barkley, 35, of Cleveland, and Albert W. Brown, 41, of Lorain, surrendered to police Tuesday morning and are being held in Parma jail. Both will have their initial appearance at 12:30 p.m. today.
Chakara L. Watts, 22, of Cleveland, has also been charged. She was arrested last week, and her case was bound over to the Cuyahoga County Prosecutor's Office for charges.
Police have also obtained an arrest warrant for a 22-year-old male who lives in another state. They'll also seek charges against a juvenile male in connection with his involvement.
The incident happened at just after 7 p.m. on March 8. Several employees of the business had been attacked and injured by a group of males who were attending a birthday party there. All of the offenders fled the scene before police arrived.
Officers learned the attack happened when a female patron complained to store employees about a photo booth machine not working.
A manager reportedly told her she would have to wait, and one of the males from the party then followed the manager into the kitchen, threatened to kill him and then attacked him.
The manager was beaten and struck on the face and head. Other workers intervened and were then attacked by other patrons. A total of six employees were injured, and two of them seriously.