This is an archived article and the information in the article may be outdated. Please look at the time stamp on the story to see when it was last updated.
WILLOUGHBY, Ohio– The man who admitted his guilt in a drunk driving crash that killed a Willoughby policeman was sentenced on Monday.
"Scott Leland is a good person who made a bad decision," Judge Joe Gibson said, prior to handing down a sentence of 48 months in prison.
Leland, 46, pleaded guilty last month to aggravated vehicular homicide and OVI in connection with a Sept. 21 accident that killed Jason Gresko, 32.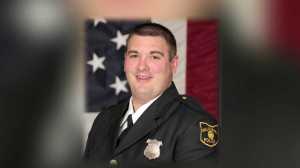 In exchange for Leland's guilty plea, prosecutors agreed to drop two other aggravated vehicular homicide charges and two charges of child endangering, filed because two children were in his truck. They were not injured.
Prosecutors also agreed to recommend a sentence of four and a half years, although defense attorneys said he only deserved one year.
"On the night that this happened, he consented to have his blood drawn because he felt guilty at that point and he knew that he'd done something wrong," said Jerome Emoff, Leland's lawyer.
Dash cam video from his cruiser showed his emergency lights were on as he traveled northbound on Harmony Lane in Willoughby around 9:30 p.m. that night.
It also shows the pickup, driven by Leland, turn in front of Gresko, forcing the officer to swerve and hit a tree. He died from his injuries.
"My mind knows that Scott Leland did not with malice and intent plan to end my son's life," said Jason's mother-in-law, Denise Powell. "I also know that the actions and decisions he took that night have crippled my family for a lifetime."
Leland claimed to have only had a few beers but his blood alcohol level was .149, nearly twice the legal limit.
"Being away from my family will be unbearable for me, but I understand the great harm that I have done to Officer Gresko and his family and community," said Leland, who was immediately taken into custody.
Gresko left behind a wife and 3-year-old daughter.
"My world has been forever changed. My heart is heavy," said Sandra Gresko, who addressed the court. "My life is almost unrecognizable. I don't know who I am anymore. I don't remember what our future dreams were. I don't feel like they even matter."
Officer Gresko worked part-time with the Willoughby Police Department since 2003 and also worked for the Cleveland Clinic Police Department.
"This sentence, certainly, will not bring Jason back but it's my hope that it'll give the defendant time to change his life and will prevent him from taking another innocent person's life," said Jason's brother, Nick Gresko.
After his release from prison, Leland will be under probation for three years and under driving suspension for 10 years.
Read more stories on Officer Gresko here.