This is an archived article and the information in the article may be outdated. Please look at the time stamp on the story to see when it was last updated.
STRASBURG, Ohio– The second man charged in the murder of an elderly Strasburg couple changed his plea on Monday.
Jeffery Stewart, 22, pleaded guilty to two counts of aggravated murder for the deaths of Doyle, 88, and Lillian Chumney, 70. He pleaded not guilty in March of last year.
The judge sentenced him to two life terms with the possibility of parole after 20 years Factoring in the other counts, Stewart will not be eligible for parole for 50 years.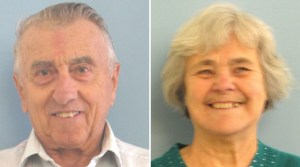 On Jan. 21, 2015, the Chumneys' daughter reported the couple missing after finding their home in Strasburg had been ransacked. Their remains were found in their burned car in Coschocton County the next day.
Stewart's co-defendent, Robert R. Clark, pleaded guilty to seven charges in August and was sentenced to life in prison without parole. He was arrested in Arizona after a series of robberies and a police chase.