This is an archived article and the information in the article may be outdated. Please look at the time stamp on the story to see when it was last updated.
CLEVELAND, Ohio — The Horseshoe Casino in Cleveland has revealed the winner of its second $1 million drawing.
The casino tweeted a photo of Oanh V. who became the casino's second millionaire Saturday as part of the $3 Million Summer Giveaway.
http://storify.com/fox8news/second-dollar-1-million-horseshoe-casino-winner
As part of the giveaway, all Ohio locations are giving away a combined $6 million in cash during three different drawings. The last drawing will be held on September 1.
In Cincinnati, the casino awarded a million-dollar prize to resident Kevin Lewis, then realized it had made a blunder. During a final verification check, casino leadership discovered that a second Cincinnati resident with the same winning name, Kevin Lewis, was the true winner of the drawing.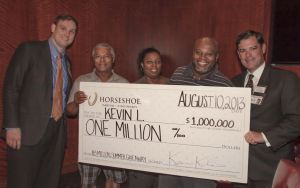 "This was our blunder," said Horseshoe Cincinnati Senior Vice President and General Manager Kevin Kline in a release. "So, consistent with our commitment to do the right thing for our guests, Horseshoe awarded a $1 million dollar prize to each of the men."
Total Rewards members may enter the $1 million drawings at Horseshoe Cincinnati, Horseshoe Cleveland and ThistleDown Racino by swiping their Total Rewards card.
Each member may swipe once a day for free and will earn one additional entry for every 25 Tier Credits earned playing slots or table games.
One million dollars cash will be given to one winner each at both Horseshoe Cleveland and Horseshoe Cincinnati. The final drawings will be held at 9:00 p.m. in each city on  Sunday, Sept. 1.