This is an archived article and the information in the article may be outdated. Please look at the time stamp on the story to see when it was last updated.
PLAIN TOWNSHIP, Ohio– A sea of pink and green blanketed a small hill in Schneider Park Monday night as nearly two thousand people gathered to say goodbye to a little girl who passed away suddenly on her way to school last week.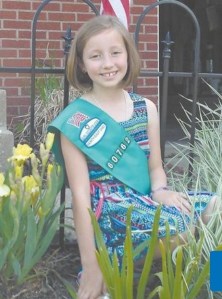 Ten-year-old Delaney Riley had just started the 5th grade at Glenwood Intermediate in Plain Township and was walking in front of her neighbors' home when she collapsed.
Good Samaritans and Delaney's parents, including her father who is a Canton police officer, performed CPR but she was pronounced dead Wednesday night at Akron Children's Hospital.  The Summit County Medical Examiner's Office said she died of natural causes and suffered heart abnormalities.
"It's been difficult, a lot of tears and sadness," said Brent May, Superintendent of Plain Local Schools.
The school district immediately made counseling available to all students and staff and began planning a memorial service.
Everyone attending the vigil at Schneider Park wore pink and green because those were Delaney's favorite colors.
Her parents were still too distraught to speak but teachers recounted all of the many attributes that they say made Delaney special including her contagious smile, spunky personality and generous spirit.
They spoke of her academic talents and how she loved the Girl Scouts and volleyball but they said family and friends were very important to Delaney.
Her favorite book was "Unlikely Friendships" and they said, Delaney made a point to be friends with everyone, especially those who needed a friend most.
Recently Delaney told a teacher that the three things she was most grateful for were God, good days and great people.
"She was a great girl," said Kristie Ladson, Glenwood Intermediate Community Liaison.
The vigil lasted about an hour and at sunset everyone was encouraged to close their eyes and offer up a silent prayer.
Because Delaney died so suddenly, people were given a chance to properly say goodbye, then releasing those thoughts along with hundreds of bright pink and green balloons floating skyward, they yelled "We love you Delaney."