This is an archived article and the information in the article may be outdated. Please look at the time stamp on the story to see when it was last updated.
AKRON, Ohio – It's considered one of the most exciting weeks of the year in the Akron/Canton area.
Events this week include everything from the opening of Lebron James' new school to sporting events that bring in some of the best athletes in the world.
It might be hard to believe, but the NFL preseason already kicks off this week. Thursday night the Ravens and Bears play in the Hall of Fame game in Canton. Canton`s enshrinement ceremony is Saturday. The annual event is big business for local hotels and restaurants.
Also starting Thursday, the Bridgestone Invitational hosts the best golfers in the world at Akron's Firestone Country Club. Big names like Tiger Woods will draw big crowds, and tickets are still available.
The tournament draws eyes from around the globe.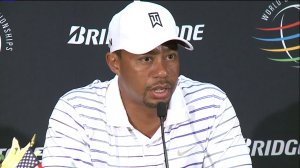 "We'll have over 400 credentialed media from all over the world. We'll be broadcast worldwide to over 220 countries. It's one billion potential households. It's really a great way to showcase all of the great things we have going on here in Northeast Ohio," said tournament executive director Don Padgett.
Padgett said the tournament raises a million dollars every year for local charities.
"Our two signature charities are University Hospitals Rainbow and Babies Hospital and Akron Children's Hospital," Padgett said.
On Monday, the future of kids will be the focus in Akron when Lebron James' much anticipated I Promise school opens. Lebron`s school offers full scholarships to the University of Akron for students who complete the program.
Lebron talked about his excitement over the school opening in Akron on his Twitter account.
and it doesn't get bigger than opening day tomorrow (until the next thing we dream of 🤣) I'm so unbelievably proud and excited to see my kids, my home, and the 330 tomorrow. THANK YOU! Let's get it. Let's go 💪🏾 @IPROMISESchool #WeAreFamily #IPROMISE

— LeBron James (@KingJames) July 29, 2018
Unfortunately, this will be the last year Akron hosts the Bridgestone Invitational. The PGA is moving the event to Memphis next year. Firestone will get another tournament.