This is an archived article and the information in the article may be outdated. Please look at the time stamp on the story to see when it was last updated.
CLEVELAND– The Browns released their 2014 schedule on Wednesday night. The 16 games include one affair on a prime-time basis. They face the Cincinnati Bengals at 8:25 p.m. Thursday, November 6, in Cincinnati.
The schedule starts off with three tough foes. The season opener is Sunday, September 7 in Pittsburgh, followed by two home games with the Saints and the Ravens.
Mike Pettine, the Browns head coach had this to say in a statement released by the team. "Looking at the schedule, we've said we want to be the toughest team on the field. We'll get a good taste of our division early on, with three of our first five against the AFC North, which has been for quite some time one of the NFL's best divisions. We're building our team to compete in the division, so hopefully we can get off to a good start."
Two games will be televised by FOX 8: The second game of the season against the Saints on September 14 is on FOX 8 and on November 2, the Browns host Tampa Bay. Both games are at 1 p.m. at FirstEnergy Stadium.
The entire schedule is below: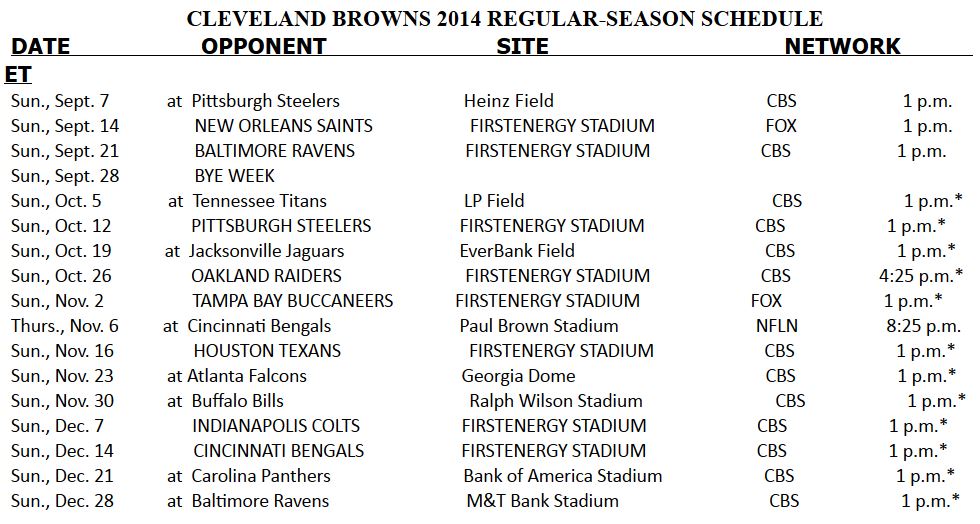 Click here for more including ticket information.