This is an archived article and the information in the article may be outdated. Please look at the time stamp on the story to see when it was last updated.
SANDUSKY COUNTY, Ohio — The Ohio State Highway Patrol released the names of the three people killed in a Turnpike crash in Sandusky County Wednesday.
They were identified as Hannah Matheny, 20, of Parma; Grzegorz A. Piwowarczyk, 42, of Palatine, Illinois; and Janice M. Robb, 66, of Schererville, Indiana.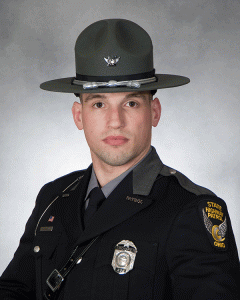 Two separate crash zones near milepost 102 and 101 trapped some 50 vehicles between them.  Most vehicles sustained little or no damage.
Trooper Andrew Clouser, 29, was seriously injured when he responded to the crashes to investigate.
Restrictions and delays along the Ohio Turnpike in Sandusky County were expected throughout the day Thursday as crews worked to remove vehicles and debris.
Eastbound traffic was being diverted at Exit 91 for a time but two lanes have since reopened.  Traffic is also permitted to move westbound.
SkyFOX flew over the scene before dawn to find mangled and abandoned vehicles.
According to the Ohio State Highway Patrol, Clouser was investigating a crash in the eastbound lanes of the turnpike near the 102 and 103 mile markers at about 1:25 p.m. Wednesday.
At around 2:50 p.m., another crash occurred, pinning Clouser between two vehicles.
Authorities said he suffered serious injuries to his legs and was taken to the hospital.
He was listed in critical condition Thursday morning.
The Ohio State Highway Patrol sent a message of appreciation on its Facebook page:
"We would like to thank all of you for your thoughts and prayers for Tpr. Andrew Clouser that was severely injured in the crashes yesterday on the Ohio Turnpike. He remains in serious but stable condition at Mercy St. Vincent Medical Center in Toledo. In addition, please continue to keep the loved ones of the three killed in this tragic incident in your thoughts and prayers as well. We should have updated information out soon."
**CLICK HERE for a BLOG of Thursday's reported crashes, road conditions and traffic photos**