This is an archived article and the information in the article may be outdated. Please look at the time stamp on the story to see when it was last updated.
SANDUSKY - Sandusky police, along with the Erie County Sheriff's Office, Perkins Police Department and Bay View Police Department, have arrested a fugitive who they say assaulted and held five people hostage.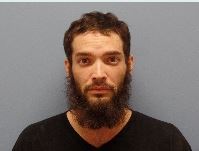 Anthony Harrigan first came to the attention of the police on July 2nd, when he was taken from a home on Perry Street in Sandusky to Firelands Regional Medical Center with a gunshot to his hand. His brother was also shot and taken to the hospital. The brothers were uncooperative with the police though, and wouldn't say where or when they had been shot.
As police investigated the incident, they discovered that Harrigan had been shot inside the home on Perry Street and that he had held others inside the home at gunpoint for over three hours. Harrigan allegedly threatened and assaulted his hostages. At some point during this time, Harrigan struggled with one of the others and a gun went off, injuring him and his brother, Zachary Rowe.
Officers learned that Harrigan had been kicked out of the house, had access to firearms and was acting "in a violent manner." They issued a warrant for his arrest, stating that he was to be considered armed and dangerous. He had been released from the hospital for his hand injury.
At around 8 a.m. on July 10th, Harrigan was said to be hiding out in the area of Dewey Street in Sandusky. Officers surrounded a home there and Harrigan was taken into custody. He was initially taken to the hospital, but is now in the Erie County Jail on charges of kidnapping, tampering with evidence, and two counts of felonious assault. Additional charges will be sent to a grand jury.
Two women in the Dewey Street home were also arrested. Haley Schenk and Felicia Eldridge are charged with obstructing justice for harboring a known and wanted felon. They are also being held in the Erie County Jail.