This is an archived article and the information in the article may be outdated. Please look at the time stamp on the story to see when it was last updated.
CLEVELAND — There are a lot of fun things planned in Cleveland this summer and many of them are happening as we head into the Fourth of July weekend.
When it comes to getting around, RTA says it has you covered with several perks. First, rides for kids 12 and under are free on RTA; that includes this weekend and all through summer. The child must be with an adult.
Here are some of the upcoming events:
June 30: Ride RTA to free Cleveland Orchestra Downtown concert:
The Cleveland Orchestra presents its free Independence Day concert Friday, June 30, on Mall B. The concert begins at 9 p.m. with fireworks display following at 10 p.m.The RTA says people are encouraged to ride the Red Line, Blue Line, or Green Line to the event. Green Line rail service that usually ends at 9 p.m. will be extended for the Orchestra concert. The last Green Line train to depart Tower City for Green Road will be at 12:00 a.m. Red Line and Blue Line will operate regular service, which is also until after midnight.
July 1: RTA service extended for U2 concert at FirstEnergy Stadium:
RTA's Waterfront Line service usually stops at 7 p.m., and Green Line service usually ends at 9 p.m. Both are being extended on Saturday, July 1, for a sold-out U2 concert.The concert begins at 7 p.m. at FirstEnergy Stadium, home of the Cleveland Browns. The Stadium is served by the West Third Street Station on the Waterfront Line.
Before the concert, park free at a Rapid Station. If you buy a $5.50 All-Day Pass, you'll have unlimited access and free transfers from the Red, Blue or Green Line at Tower City to the Waterfront Line.
After the concert, trains will be on hand to take you home. Please board promptly.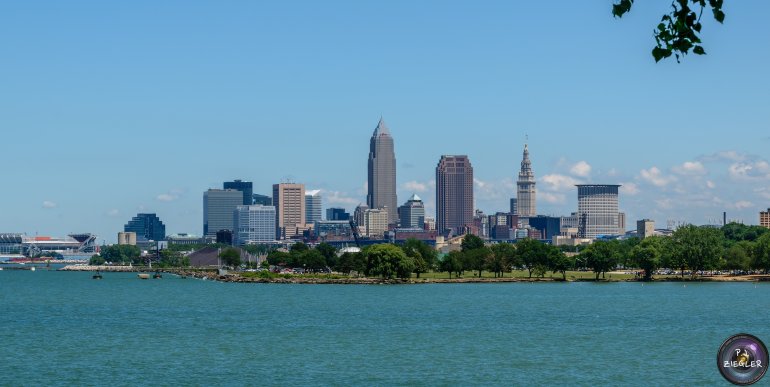 July 4: Ride RTA to see Cleveland's finest fireworks display:
RTA operates a Sunday/holiday schedule on July 4, and Waterfront Line service ends at 7 p.m.
However, RTA offers other options for good viewing:
The free C-Line trolley operates until 11 p.m. Board on the sidewalk outside Tower City, and ride to Flats East Bank.
Ride any Rapid to Tower City, and walk a few blocks to Mall B, where you can sit on the grassy slopes on the roof of the Huntington Convention Center of Cleveland.
Bring your own blanket.
Ride any Rapid to Tower City, and walk a few blocks to the Settlers Landing Station on the Waterfront Line. There, a natural amphitheater provides great viewing.
**Learn more about RTA, here**
 **Check a complete list of fireworks locations and times, here.**
Here are some other great events in Northeast Ohio to celebrate the Fourth of July, according to Destination Cleveland:
 Blossom: A Salute to America
· For music and spectacular post-show fireworks displays that honor our country, Clevelanders can enjoy "Tchaikovsky Spectacular" or "A Salute to America" at Blossom Music Center.
o This kick-off to the Blossom Music Festival brings out the best of the holiday by highlighting historical musical moments. The Cleveland Orchestra will perform the "1812 Overture" and other favorites as part of "Tchaikovsky Spectacular."
o "A Salute to America" will feature conductor Loras John Schissel leading the Blossom Festival Band in patriotic Sousa marches, Broadway favorites and an Armed Forces Salute.
o Parents don't have to worry about a baby-sitter either; it's free for children under the age of 18 to attend the performances.
1145 W. Steels Corners Rd., Cuyahoga Falls
Tchaikovsky Spectacular: Saturday, July 1, and Sunday, July 2, 8 p.m.
A Salute to America: Monday, July 3, and Tuesday, July 4, 8 p.m.
America's Favorite Past Time
Cleveland Indians vs. San Diego Padres
· Nothing beats a day (or an evening) at the ballpark. At the corner of Carnegie and Ontario, residents can cheer on the Cleveland Indians with a hot dog in hand while honoring one America's greatest traditions. The Tribe kicks off a three-game series against the San Diego Padres at Progressive Field at 7:10 p.m., and the first 15,000 fans to the park will receive a Francisco Lindor Bobblehead. At the end of the game, the America Rocks fireworks show will light up the sky to cap off the day.
2401 Ontario St., Cleveland
Tuesday, July 4, 7:10 p.m.
Shakespeare Takes on Cleveland
Cleveland Shakespeare Festival
· For a non-traditional Fourth of July activity, locals can celebrate art and enjoy nature while watching the Cleveland Shakespeare Festival's outdoor performance of "The Taming of the Shrew." Guests are encouraged to BYOB (bring your own blanket) or lawn chair and must seat themselves prior to the outdoor performance. With free shows on both sides of town, residents can indulge in this light-hearted tale close to home.
The James A. Garfield National Historic Site, 8095 Mentor Ave., Mentor
Saturday, July 1, 7 p.m.
Lincoln Park, 1208 Starkweather Ave., Cleveland
Sunday, July 2, 7 p.m.
Science Meets History
Star Spangled Science
· Who knew science and history went so well together? The team at Great Lakes Science Center had no doubt and is hosting two events – Star Spangled Science and Rock and Boom – over the holiday weekend for families to enjoy.
o At Star Spangled Science, guests can pair Fourth of July traditions and with a variety of science-based activities. From unraveling the concepts of chemistry and physics to building their own backyard BBQ with LEGOs, families will have plenty of hands-on activities to try.
o After exploring the Science Center on July 4, groups can head out to the Rock and Boom fireworks watch party. Located on the 618-foot Steamship William G. Mather, Clevelanders will have a picture-perfect view of the city's fireworks show from the ship's deck.
601 Erieside Ave., Cleveland
Star Spangled Science: Sunday, July 2, to Tuesday, July 4, noon to 5 p.m.
Rock and Boom: Tuesday, July 4, 8 p.m.