This is an archived article and the information in the article may be outdated. Please look at the time stamp on the story to see when it was last updated.
CLEVELAND – Wondering how to get around downtown during next week's RNC? RTA has a plan in place to keep you mobile.
The Downtown Trolleys will have extended hours during the convention, operating every 5 minutes instead of every 10 from the hours of 7 a.m. – 1 a.m. (Price for a ride? A smile.) The RTA says this will be the best way for any visitors to see Cleveland as well as for anyone to get around the downtown area.
The B-Line Trolley will operate from 5 a.m. – 1 a.m., at higher frequency, on a special re-route that connects the Eastern and Western Bus Terminals.
The E-Line Trolley will operate from 7 a.m. – 1 a.m., at higher frequency, on its regular route.
The C-Line Trolley will not operate.
The 9/12 Trolley will operate its regular schedule but on a slightly different route.
Some bus routes in the downtown area will change because of street closures during the week:
Buses coming into downtown from the east, or heading out to the east will begin and end their service at the eastern bus terminal. Trolleys will connect from there.
Buses coming from or going to the west will end and begin their service at the western bus terminal, and trolleys will provide connections.
The HealthLine will operate on its regular schedule and route the entire week.
From July 18-21, the Cleveland State Line will follow a different downtown route and end at the Western Bus Terminal.
RTA's rail service will be normal on all days and will be available to handle additional passengers. The only exception is that the Waterfront Line will not operate on Sunday, July 17.
Here's the map that outlines all of the routes for the week: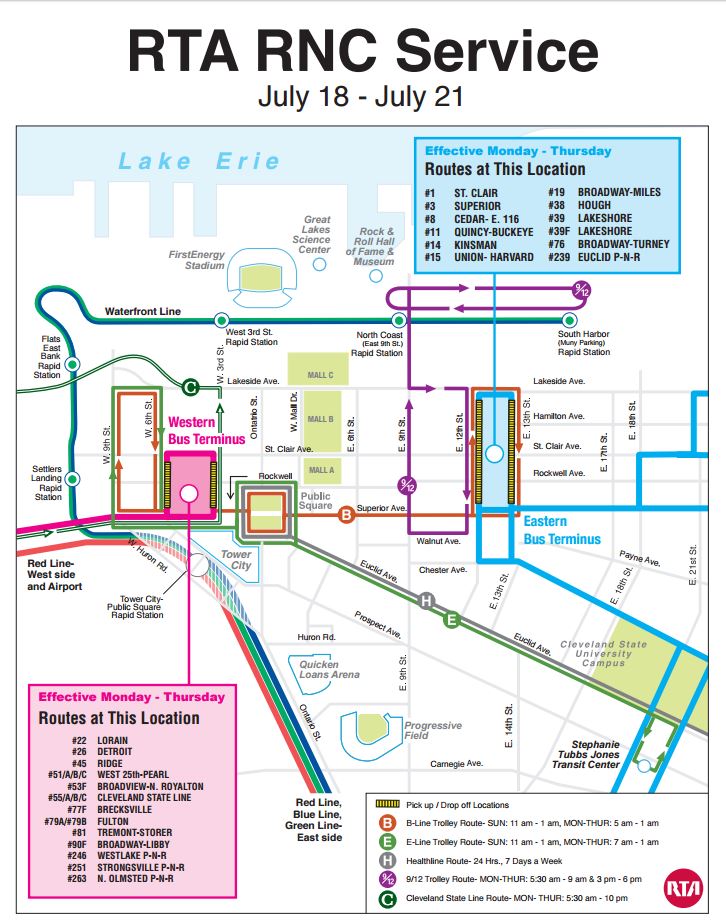 Customers are encouraged to take advantage of RTA's 6,000 free parking spaces at rail stations and use the Rapid to get to the Tower City Station in downtown Cleveland, or to get across town.
RTA is also offering a $20 special Convention weekly pass for unlimited rides, from July 17–23 ONLY. Click here to purchase the pass. 
No RTA buses or Paratransit vehicles are allowed to go into the established security zone surrounding the convention venues downtown.
You can click here to see the different re-routed schedules or go to  www.rideRTA.com for all the latest information as the convention unfolds.