This is an archived article and the information in the article may be outdated. Please look at the time stamp on the story to see when it was last updated.
CLEVELAND – It was a beautiful morning for a beautification project in Cleveland.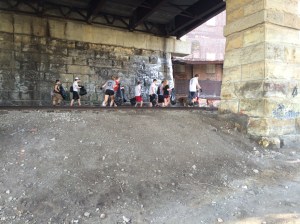 RiverSweep, Ohio's largest  one day cleanup effort, was out at a number of locations today as volunteers worked to clean up Johnston Mill Run, a tributary of Mill Creek that runs through Cleveland and Garfield Heights. RiverSweep is held every year on the day before Mother's Day. In the 25 years it's been running, 17,000+ volunteers  have helped pick up and recycle over 23-thousand discarded tires and 490 tons of trash.
Right now, RiverSweep and its partners are working to develop a hiking and biking trail along Johnston Mill Run.