This is an archived article and the information in the article may be outdated. Please look at the time stamp on the story to see when it was last updated.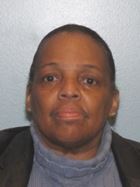 CLEVELAND — The Northern Ohio Violent Fugitive Task Force is asking for information about a wanted woman and is offering a reward for the tip that leads to her capture.
Toni Smith-Drake is accused of stealing U.S. Savings Bonds from an elderly woman and obtaining over $200,000 from them.
She is wanted for aggravated identity theft and fraudulent use of another's social security number, among other offenses.
Smith-Drake is believed to be hiding in Cleveland or Akron.
Her previous address was listed in the 400 block of S. Adams Street in Akron.
She is described as being a 59-year-old black female standing about 5'5″ and weighing about 250 pounds.  She has black hair and brown eyes.
Anyone with information is asked to contact the Northern Ohio Violent Fugitive Task Force at 1-866-4WANTED.
Tipsters may remain anonymous.