This is an archived article and the information in the article may be outdated. Please look at the time stamp on the story to see when it was last updated.
CLEVELAND, Ohio — Former Cleveland Browns running back Greg Pruitt made the tear-away jersey famous.
He would go through three or four of them each game, with a designated person on the sidelines with new shirts to replace them.
ClevelandBrowns.com reports the jerseys were made so they ripped to shreds if a defensive player grabbed it in a tackle. They were finally banned in 1979.
Despite the fact that he went through so many of them, Pruitt says it's rare to come across one of his genuine tear-away jerseys.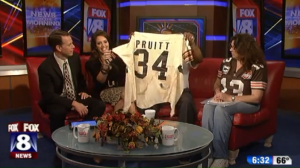 A few weeks back, Sally Selby, who is from Ohio but is now a member of a Browns Backers Club in Alaska, met him at an event and asked him to autograph a tear-away jersey she'd purchased on eBay.
Pruitt said when she got it out, it was the first jersey he'd seen in a long time that was actually used in a game.
"My first thought was, 'I wonder how old the dirt is on that jersey," he joked.
Sally said she and her husband got the jersey about four years ago. She said she knew right when she met Pruitt that she had to return it to its rightful owner.
"We had it and took care of it for four years for him," she said. "The memory of getting to meet such warm and wonderful people is even better."
She presented Pruitt with the jersey on Fox 8 News in the Morning on Monday.
Pruitt says he plans to frame his old jersey.