This is an archived article and the information in the article may be outdated. Please look at the time stamp on the story to see when it was last updated.
MADISON TOWNSHIP, Ohio– The administrator of an assisted living facility in Madison Township could face more charges following a resident's death.
An 85-year-old woman at Hubbard Road Meadows Adult Care Facility was taken to the Lake Health campus in Madison.
After an investigation and speaking to other employees, police arrested 54-year-old Alice Ramsey of Madison on Friday. They charged the facility's administrator with one count of patient abuse. She pleaded not guilty and has another hearing set for later this month, according to Painesville Municipal Court records.
On Tuesday, the victim passed away, Madison Township police said.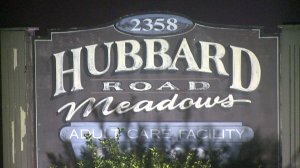 Investigators are waiting for results from the Lake County Coroner's Office to see if additional charges will be filed.
According to police, families of other residents have also come forward with suspicions of misconduct at Hubbard Road Meadows Assisted Living.
Anyone with information is asked to call Det. Tim Doyle at 440-428-2115.