This is an archived article and the information in the article may be outdated. Please look at the time stamp on the story to see when it was last updated.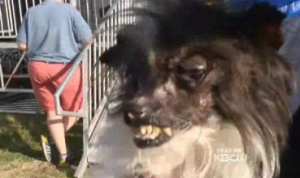 PETALUMA, Calif. (AP) — It's that time of year again when dogs with unusually large heads, hairless bodies and other oddities compete to be the World's Ugliest Dog.
This year's winner? A 2-year-old mutt named Peanut, whose wild white and brown hair, bulging eyes and protruding teeth belie his sweet, energetic personality.
Peanut's owner, Holly Chandler of Greenville, North Carolina, says he was seriously burned as a puppy and she wants to use her pet to raise awareness about animal abuse.
She plans to use the $1,500 prize to pay for other animals' veterinary bills.
The contest, held at the Sonoma-Marin Fairgrounds in Petaluma, California, is in its 26 year.
The dogs are scored by a three-judge panel in several categories, including special or unusual attributes, personality and natural ugliness.
Copyright 2014 The Associated Press. All rights reserved. This material may not be published, broadcast, rewritten or redistributed.